Tips On Water Heaters & Tankless Water Heaters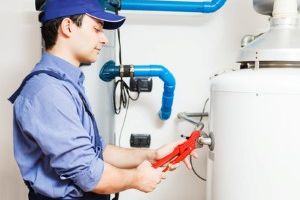 Hot water is undeniably one of the most comforting components of any modern home. Hot water makes your baths and showers bearable but also is necessary for sanitation in general. You use it every day to clean dishes, clothes, floors, and other surfaces.
Since hot water is so important, it is a good idea to take good care of your water heater. This machinery may not seem very complex because it's all nicely packaged, but it does have many components within that work together to provide the home with hot water as needed. Should any of the parts fail or get weakened, it is important to have the water heater serviced by an expert like Water Heater Heroes in Tucson.
Water heater maintenance, repair, and eventually a replacement will keep your family comfortable and the machinery running efficiently. Here's what you need to know about this equipment.
Water Heater Repairs
If your water heater has problems such as heat loss, rust-colored water, leaking, or hot water pressure reduction, don't hesitate to call a technician in for repairs. Once one part fails, it can cause other parts to weaken and finally fail. Take care of the repairs as soon as possible to keep from having to replace the tank early.
When you call a water heater repair contractor, be sure that they have experience working on every brand and type of water heater including gas, electric, storage tank, or tankless. A well-rounded repair contractor will be more experienced and capable of handling any problem.
Water Heater Maintenance
Water heaters should be serviced yearly. Unfortunately, the water heater is one of the most ignored machines in a house. A tank water heater will need to be flushed out regularly to remove sediments that build up in the bottom of the tank. The sediments cause rust and corrosion throughout the plumbing system, so have the tank cleaned to avoid the problem.
A gas water heater needs to be tested for gas leaks regularly. Both gas and electric water heaters need to have the thermostat and other electrical parts tested during maintenance. By taking care of your water heater, you'll have equipment that runs better, uses less energy, and lasts longer.
Tankless Water Heaters
If you want super efficiency, then a tankless water heater is the way to go when your old tank needs to be replaced. A tankless water heater can be installed for the entire home or just in the location where it's needed. The point-of-use tankless water heater can be installed underneath a sink or to serve just one bathroom.
While the cost is a little higher upfront, it is well worth the efficiency you'll get from the tankless system. You'll have access to all the hot water you need without having to wait for the tank to refill. And the equipment won't run constantly to heat water that you don't need until hours later.
Figuring Out The Size Of Water Heater You Need
If you prefer to stick with a water heater tank, you'll need to figure out what size to install. The water heater you replace may not be right for your household, so it's best to reevaluate the size.
Most water heaters will hold from 20 to 100 gallons of water. In general, about 15 to 30 gallons of hot water are used per day for one person to wash clothes, bathe, clean, and do dishes. If the water heater tank heats 100 gallons of water, it is constantly heating 3 times more than needed for one person.
A water heater installation professional like ours at Water Heater Heroes would determine the peak usage of the household, which is how much hot water is used by everyone in the household during the hour of the day it is most commonly used the most.
For instance, if 4 people take showers, run 1 load of clothes in a regular washing machine, run the dishwasher once, and do a little cleaning all within the same hour, the peak hour demand should be around 81 gallons. Be careful who you choose to evaluate the water heater size because not all will care or will know what they're doing.
If you live in the area and have questions or need a water heater specialist in Tucson, give us a call today at 520-400-0288 or fill out our online request form.