Professional Tankless Water Heater Installation In Tucson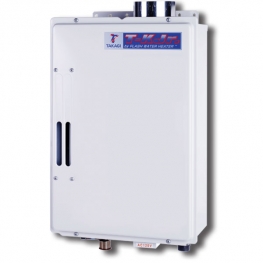 When you make the decision to invest in a tankless water heater for your Tucson home, you want to be sure that you have the assistance of a licensed Tucson water heater professional who can help you with every aspect of the installation to ensure that your new tankless water heater is set up to last you for many years to come. When it comes to quality tankless water heater installation services, you won't find better than our team of experienced water heater specialists here at Water Heater Heroes. Our team of experienced professionals install both Rinnai and Rheem/Ruud tankless water heaters and can help you find the perfect tankless water heater that is best suited to your particular needs.
There are a number of benefits to choosing a tankless water heater system for your home, not least of which is the fact that you will never have to worry about running out of hot water again. Tankless water heaters only heat water when it is used rather than warming it beforehand and storing it in a tank. So if you have an older water heater that isn't working the way it should be, or you are ready to switch to a more energy efficient method of supplying hot water to your home, give our team of experts a call today and let us help you make the switch. If you have any questions about our line of tankless water heater installation services, or you would like to schedule an appointment for consultation, give the team of water heater professionals at Water Heater Heroes a call today.
Tankless Water Heater Installation
Here at Water Heater Heroes, we offer comprehensive tankless water heater installation services to ensure that you get a new water heater that is equipped to last you for many years to come. Tankless water heaters can provide you with a number of different benefits in the home, most notable of which include their space saving design, the ability to have hot water on demand in any room of the home, and the decreased energy consumption compared to their more standard counterparts. When you buy a new tankless water heater from us here at Water Heater Heroes, we will also replace yours for free during the first five years if something unexpected goes wrong with the unit.
If you are looking for a tankless water heater expert in Tucson, give us a call today at 520-400-0288 or fill out our online request form.