Trusted Gas Water Heater Experts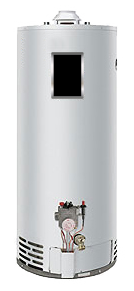 Your hot water heater is an extremely important part of your Tucson home, which is why it is so important to make sure that you have the right water heating services in place and you ensure that it has the kind of care it needs to function properly at all times. The first step to ensuring that you have a water heater that functions properly begins with ensuring that you have the proper size and type for your home, and that it is properly installed. When it comes to water heater types, it can be tough to find better than a high quality gas unit. Gas water heaters have been one of the most popular water heater types throughout the country for many years largely because of their efficiency and the fact that they do their jobs very well. Here at Water Heater Heroes, our team of experienced Tucson water heater professionals can handle every aspect of your new gas water heater installation, and we can even help you find the right one for your particular home. Give us a call today and we will make sure that you receive nothing but the highest quality workmanship in your new gas water heater installation.
Even though there are newer types of water heaters available on the market today, the most popular throughout the country is still the old, reliable gas water heater. Gas water heaters exploit the fact that heat rises, and their design allows them to deliver hot water when and where you need it in your home with a minimal amount of effort. Despite their simplistic look from the outside, gas water heaters hide a very complex and brilliant design just below the surface. If you have any questions about our full line of professional gas water heater services, or you would like to schedule an appointment for consultation, give us a call today. Our team of experts are always standing by and would be more than happy to assist you in any way we can.
Gas Water Heaters
When you are looking for a more economical water heating option, gas might be just what you've been searching for. Gas tends to run at about a third of the cost that you would pay for a similar amount of electricity, making gas water heaters a highly attractive option for homeowners who are looking for quality without having to break the bank in the process. Here at Water Heater Heroes, we offer some of the most competitive rates on the market when it comes to installing new gas water heaters. All of our prices include tax and permit, and are as follows:
30 Gallon Natural Gas - $795
40 Gallon Natural Gas - $735
50 Gallon Natural Gas - $785
Propane Gas Water Heaters Are $100 More
All Of Our High Quality Installations Include:
Ruud/Rheem or Bradford White Tank
Permit & Inspection
2 New Stainless Steel Flex Lines
New 3/4 Inlet Ball Valve (If Needed)
Minor Code Upgrades (Sediment Trap & TPR Line)
6 Year Warranty On All Parts
5 Years Warranty On Labor
If you are looking for a gas water heater professional in Tucson, give us a call today at 520-400-0288 or fill out our online request form.